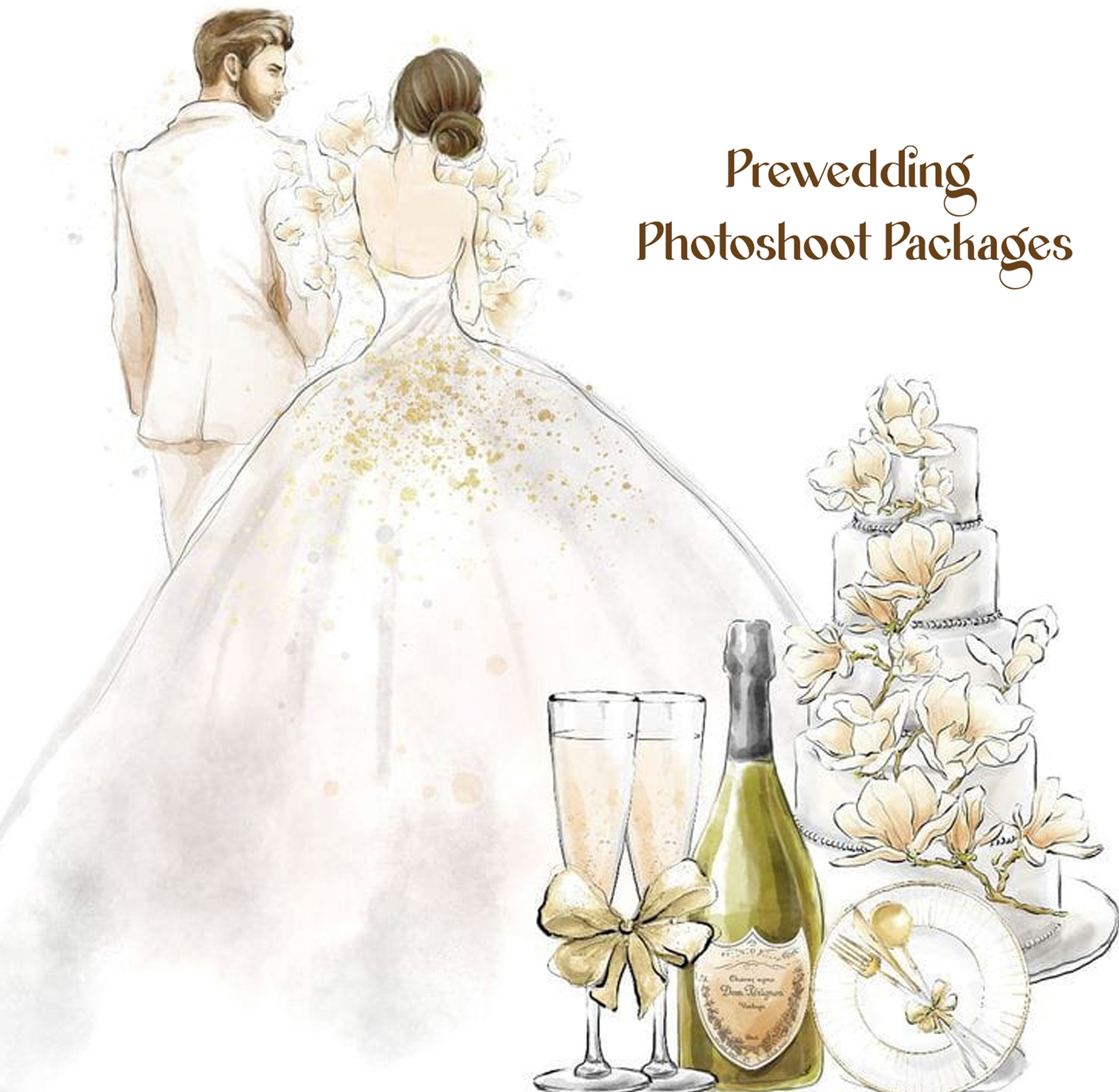 Welcome to Hotel Sarang Palace & Pakwaan Candlelight Restaurant!
(Your Perfect Pre-Wedding Photoshoot Destination!)
Create Timeless Memories in a Luxurious Setting
Hotel Sarang Palace & Pakwaan Candlelight Restaurant offers an exquisite backdrop for your pre-wedding photoshoot, combining luxury, style, and romance in every frame. With our beautiful surroundings, elegant interiors, and impeccable service, your love story will come to life in the most enchanting way possible.
We understand that your pre-wedding photoshoot is important to your love story. We provide a stunning and versatile canvas for your photographer to capture the essence of your romance. Our property boasts:
Elegant suites and rooms with unique character and charm.
Beautifully handcrafted romantic outdoor areas with Candlelight dinner Insta-worthy lobby area with both modern and classic aesthetics.
Experienced and accommodating staff to ensure a seamless experience.
When you choose us for your pre-wedding photoshoot, you are choosing unmatched elegance and style. Our luxurious amenities, attention to detail, and personalized service ensure that your photos capture the spirit of your love in a truly exceptional way.
Services:
Our pre-wedding photoshoot packages are designed to cater to your unique needs. Whether you prefer an indoor shoot in our beautifully designed suites or a romantic outdoor photoshoot at our rooftop, we have a package for you. Our services include:
Exclusive access to our picturesque locations.
Professional photographer.
Hair and makeup services upon request.
Dress on rent
Prewedding Photoshoot Packages
Comprehensive Indoor + Outdoor Package – (3 locations) with dinner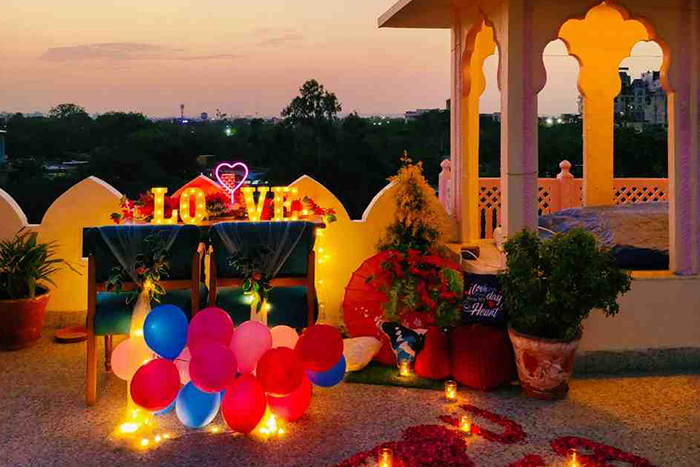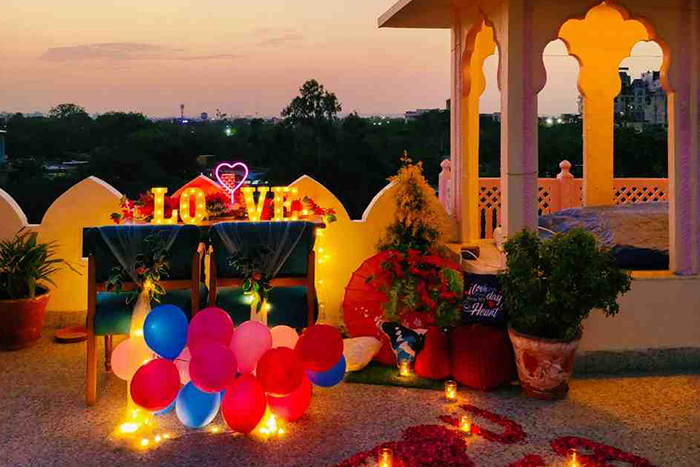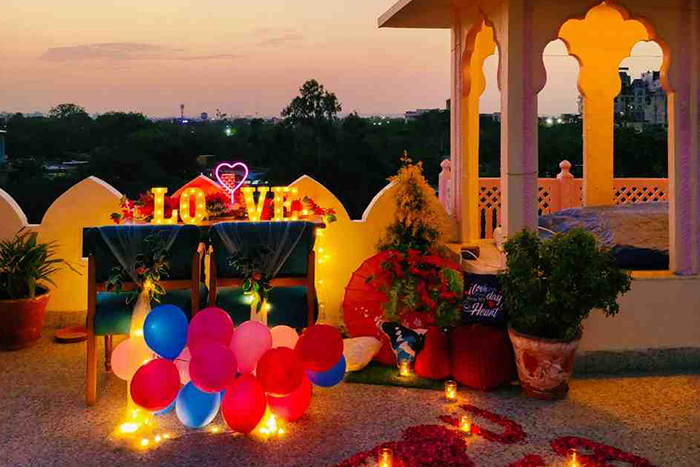 Theme Room – (Moroccan / Mughal / Peacock Theme) - 45 Min.
Picturesque Lobby - 45 Min.
Rooftop (Classic Royal Baradari / Poolside Setup Bali Dreams) - 45 Min.
Know more
Indoor + Outdoor Package – (2 Locations) with dinner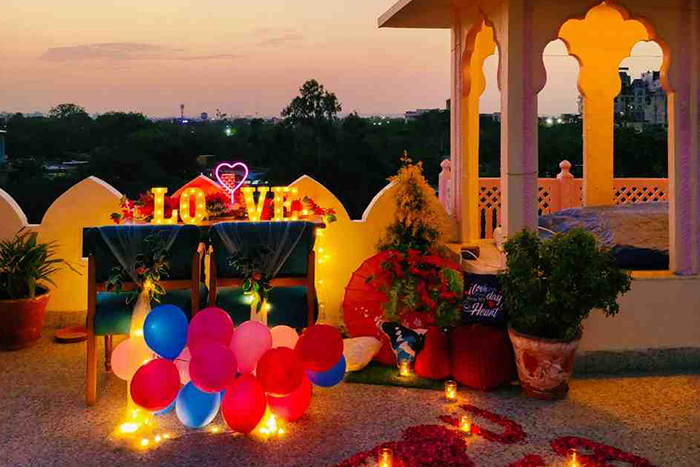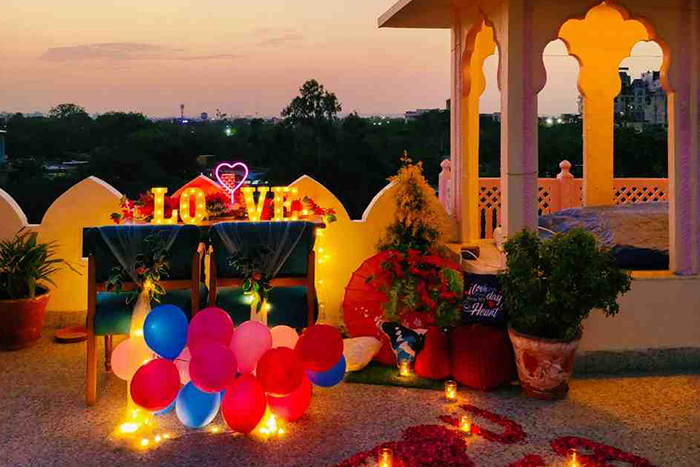 Picturesque Lobby - 45 Min.
Instagrammable Rooftop - (Classic Royal Baradari / Poolside Setup Bali Dreams) - 45 Min.
Know more
Outdoor Package Only – (1 Location) with dinner
Terms & Conditions
We Will Provide Any of the Above 3 Theme Rooms as Per Availability.
We Will Provide Either Classic Royal Baradari or Bali Dreams as Per Availability.
One Couple + 2 Photographers Will Be Allowed. Extra Person Will Be Charged @1000
Dinner (Set menu) For 2 (Couple) Will Be Provided at Tree Garden Indoor Lounge. Extra Person Will Be Charged @ 750
Every Extra Hour Will Be Charged @1000 Subject to Availability.
Photoshoot Props Will Be Charged Extra. Any Outside Décor/Photo prop items Are Not Allowed. Any Damage to Our Shoot Locations May Indulge in Heavy Fines/Fees
Exclusive Rooftop Prewedding Photoshoot with Candlelight Dinner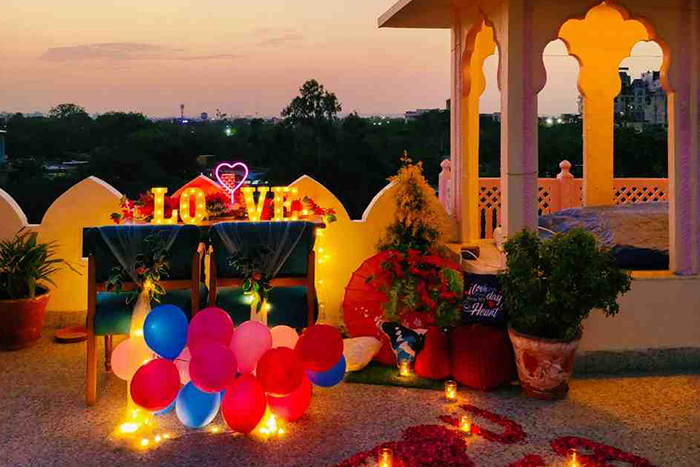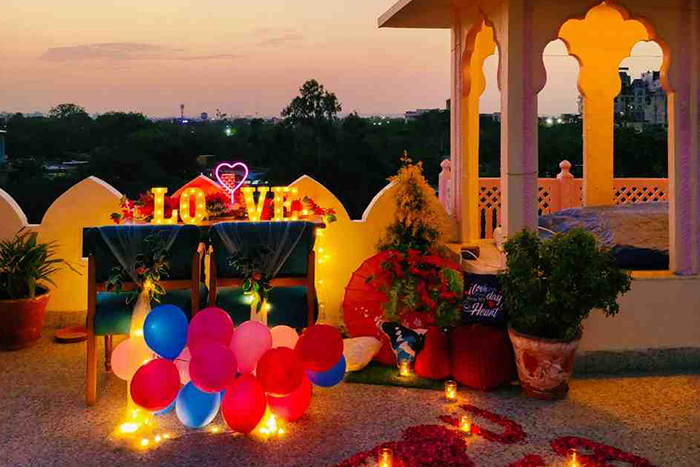 Royal Boho Baradari (Extra decoration) – 9500 Rs.
Bali Dreams – Rooftop Poolside Setup - 11000 Rs.
Know more
Terms & conditions
One Couple + 2 Photographers Will Be Allowed Extra Person Will Be Charged @1000
Dinner Set Menu For 2 (Couple) Will Be Provided at booked rooftop Setup only. Extra Person Will Be Charged @ 1000
Every Extra Hour Will Be Charged @3000 Subject to Availability.
Any Damage to Our Shoot Locations May Result in Heavy Fines/Fees